Regain your freedom, health & happiness and systemise your business, so it runs without you!
If a business is built on systems and not people, people run the systems like clockwork.
When every aspect of your business is dependent on you, the growth of the business is significantly restricted. Moving away from the day to day operations of your business can be challenging for business owners. However, to support the lifestyle you deserve, it is an essential step to take.
We all start out wanting to build a highly successful business, yet we often end up feeling trapped instead. You find it hard to stop thinking about your business, or taking a few days off seems impossible. You will just feel stuck.
How it works?
Taking you through a unique 10 step business systemisation process will support you on this journey.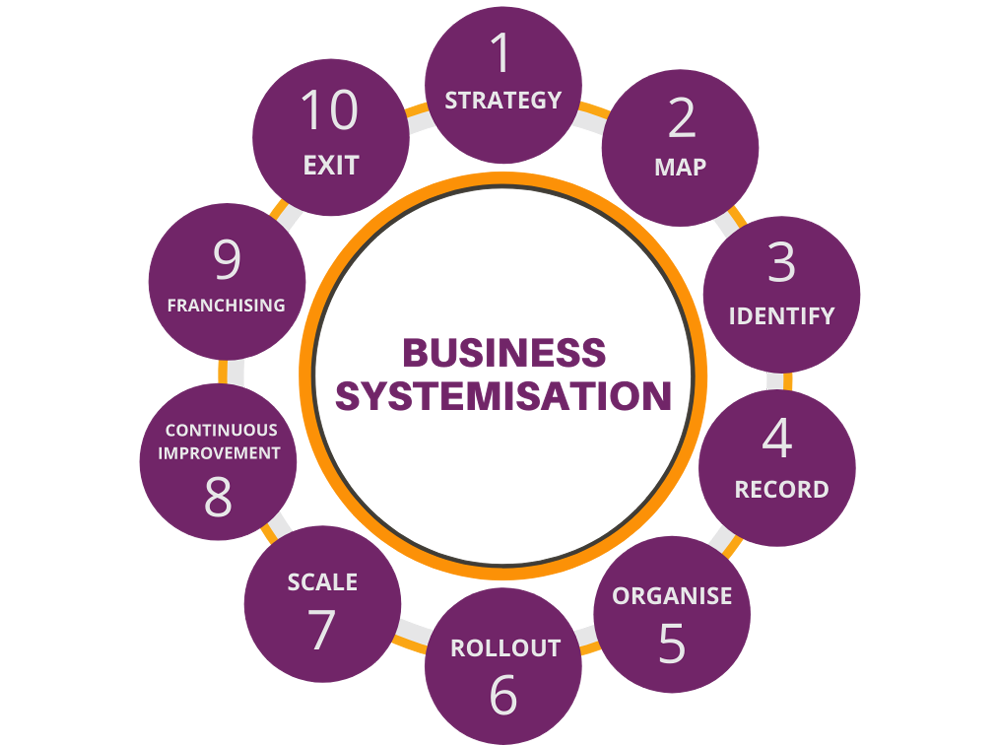 This will involve mapping out the client journey, identifying key systems within each department and training on how to successfully create systems that work, resulting in maximum productivity, efficiency, job satisfaction, and employee motivation. You will implement tried and tested robust systems and remove yourself from the day to day running of your business.
Using your knowledge, best practice and working with your top performing team members to systemise the business in a fool proof way, will ensure the business runs on systems and not on you.
Benefits of Business Systemisation
Empowering the people in a business to improve the workflow, taking time to develop an end to end view of the business system and focussing on improving the work can all lead to scalable, effective, efficient businesses that won't take up every waking hour of the business owner's day.
If you would like to discuss systemising your business, book a Discovery Call here.
Sign up for a 1-2-1 Mentoring Session
Ready to start working on systemising your business? Then sign up for a 1 or 2 hour 1-2-1 business mentoring session with Eileen here.
"We started our systemisation process with Eileen Fleming at the beginning of 2021 and her mentorship and strategic guidance has been invaluable to the business ever since. She clearly explained the entire systemisation step by step process and put a detailed plan in place, so that we could reach and achieve our standardised processes within the defined timeframe. Eileen kept us accountable and motivated throughout the entire process whilst providing excellent support. We are finding a massive improvement in terms of operational day to day efficiencies and productivity since we started this process. Absolutely delighted with what we have achieved to date in such a short space of time and can't recommend Eileen highly enough."
Managing Partner at Ag Associates Accountants, Little Island, Co. Cork